State of the Judiciary and Administration of Justice (SOJAR) report FY 2021/2022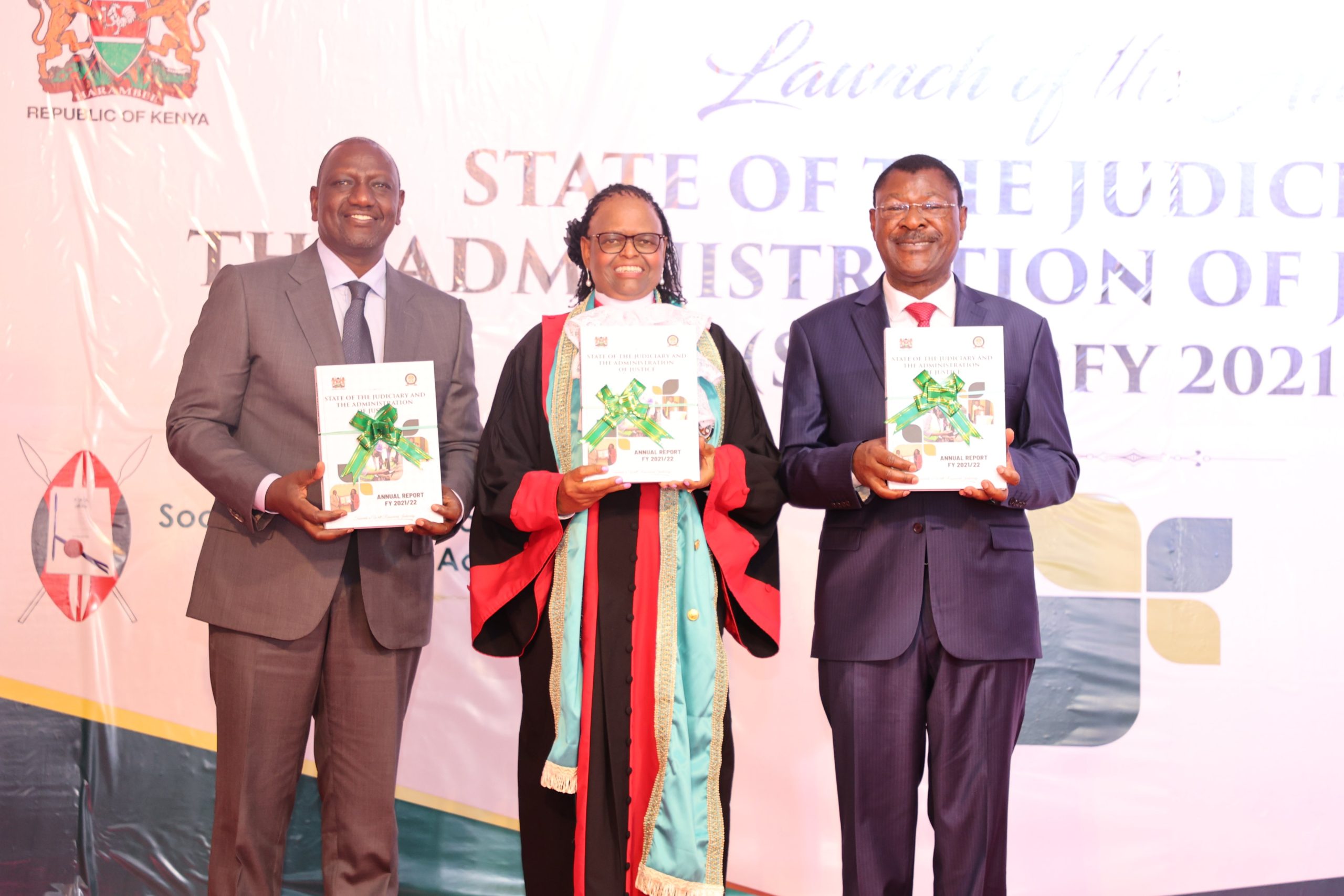 The Honourable Chief Justice launched the Annual State of the Judiciary and Administration of Justice (SOJAR) report FY 2021/2022, at the Supreme Court on Friday afternoon. In attendance was His Excellency, The President Hon. William Ruto, the Speaker of the National Assembly Hon. Wetangula, Cabinet Secretaries, Ambassadors and other distinguished guests.
The Report boasted numerous achievements. Notably, during the last Financial Year, 404,312 cases were filed in the Judiciary, of which 257,205 were criminal cases and 147,107 civil cases. The Courts recorded a Case Clearance Rate of 94% where 381,317 cases were resolved.
In addition, as a way of expanding the doorways of justice, 11 new ELC Courts and six new High Court stations were established across the country.
Another transformative intervention during the year was the establishment of 11 Small Claims Courts. During the period, the Small Claims Court resolved 9,315 cases, releasing Kshs1.431 billion into the economy.
To expedite the resolution of sexual and gender-based cases, the Judiciary operationalised a Sexual and Gender Based Violence (SGBV) court at Shanzu with hopes to scale up the roll out of the SGBV courts throughout the country.
Further, the Judiciary decentralised the Political Parties Disputes Tribunal (PPDT) across seven regions during the period. The Tribunal received and concluded 198 matters within one month of filing.
Our Court Annexed Mediation programme was expanded to an additional eight court stations during the year. The Judiciary launched three Alternative Justice System (AJS) suites and models in Kajiado, Isiolo and Nakuru.
The Judiciary also mounted mobile courts in far flung areas in our continued quest to bridge the geographical distance between litigants and courts.
The Judiciary is leveraging on the use of Information and Community Technology (ICT) to deepen the efficiency of our operations and the delivery of judicial service.
For optimal function, the required Judiciary establishment is 9,417. At the end of reporting period, the employee complement was at 66 per cent (6,182), an increase by 10 per cent from the previous year.
One of the key achievements was the operationalisation of the Judiciary Fund at end of the financial year. This followed a successful consultative process between the Judiciary, the National Treasury, the Central Bank of Kenya and the Controller of Budget.
The Judiciary allocation for FY 2021/22 was KSh18.122bn representing 0.6% of the total national budget and a small fraction of resources allocated to Parliament and the Executive, and below the international best practice of 3% allocation of national budgets to Judiciaries.
You can read the full report here https://www.judiciary.go.ke/sojar-2021-2022/